Summer Hockey Camp in Toronto 
Location:
Vaughan Sports Village (2600 Rutherford Rd)
Cost: 
Full Week (8 hours on ice weekly): $400 + HST
The Vital Hockey Skills summer hockey camp in Toronto is about one thing… Improvement!
This year our summer hockey camp will be looking a little different than normal as we adapt to government mandates and regulations we are receiving from the arenas. We are committed to providing the highest level of safety to all players registered for our camps. Despite the restrictions, we are ready to continue delivering the intense focus on technique and explosiveness that are vital to players at any age or caliber for the summer of 2020.
The camps, located in Vaughan, Ontario, have a high focus on technique and repetition and are structured so that each student can work at their own pace in an uncluttered environment. Our camps are optimal for 2014-2006 born players and caliber is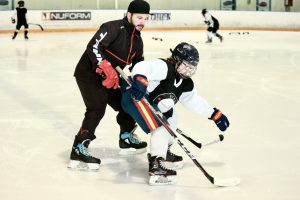 not an issue since there is such a high focus on technique! The instructors demonstrate and students repeat the techniques to increase strength and coordination daily.
Join us for the most well rounded, improvement oriented curriculum out there!