Spring Hockey Development Sessions
With hockey tryout's and Spring Hockey season around the corner, t's important to keep up with the developmental momentum.
That's why we are offering explosive spring hockey development sessions in April. Stay sharp with agility, explosive starts and puck control in our hour and half to two hour sessions. Whether you are defending, or trying to annihilate and defenceman in your way, these spring hockey development sessions cater to both forwards and defenceman with  great balance of drills for both positions. With a 6:1 Student: Instructor ration, there will be tons of teaching in a clutter-free, action packed series of stations.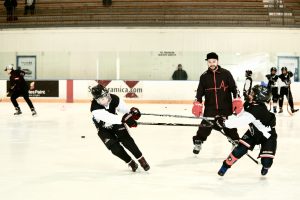 Where: Everest Ice (Dufferin and 407)
Cost: $70 per session (1.5 hour slots), $80 per session (2 hours slots)
When:
Thursday April 18th 2019 6:00 pm – 7:30 pm
Monday April 22 2019 5:00 pm- 7:00 pm
April 26 2019 5:15 pm- 7:15 pm
April 28 2019 3:15 pm- 4:45 pm (Session 1- 2013-2007 HL-Select)
April 28 2019 4:15 pm-6:15 pm (Session 2- 2011-2005 A-AAA)
May 16 2019- 6:15- 7:45 pm
May 27 2019- 6:45- 8:15 PM (Canlan York)