Peter Di Coppi – Instructor
Peter spent majority of his GTHL career with the Mississauga Reps before moving to the Toronto Marlboros for his last two years of minor hockey. Following his GTHL career, he was drafted to the Soo Greyhounds in the 3rd round 53rd overall. While playing for the Soo Greyhounds, he split his time with the JR. A Soo Thunderbirds, where he was among the top scorers in the league.
Peter moved on to playing one year in the QMJHL for the Rouyn Noranda Huskies. After returning from major junior he dominated the Jr A leagues, splitting time between the Orangeville Flyers, St Mikes Buzzers and Cornwall Colts. During that time, he successfully became the top scorer on all three teams  Upon completion of his junior career, he attended three years at Queens University, and is currently finishing his last two years attending and playing hockey at York University.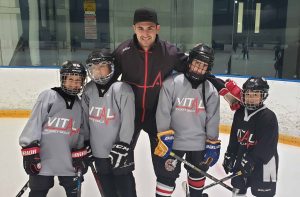 After spending the majority of his early minor hockey years playing for Jim Vitale and training with Vital Hockey Skills, he is a solid addition to a very highly qualified lineup of instructors and coaches. With unbelievable hockey knowledge and offensive creativity, Peter transfers knowledge to players in sessions that helps them to forecast and meet the upcoming demands of the game "It's fine to sit back and be happy with being great at your current level, but pretty soon the dressing room will be full of players that can do what you can do and more… what then?" (Peter Di Coppi). Peter is a very animated coach who demands the most of the players he works with, believing in their ability to reach new plateaus.